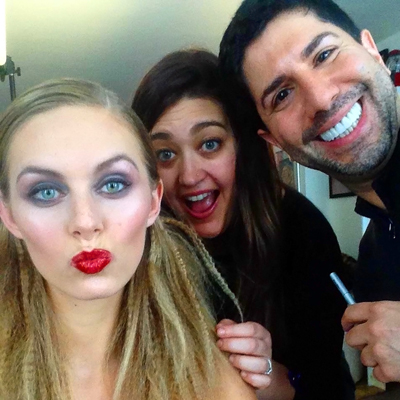 We've been hit hard in Monmouth County w/ Sandy, so many family things it's kooky, but today, ah ... I got "Ramified" ... my new word! Yes, your products arrived, I put on that foundation, added some Smooch, used the stick high-lighter (I still have that one!!!) Will you bring it back?,... meant to say with my order if you had any old ones, I'd take those stick highlighters - one of my fav's ... B Slapped the cheeks, put on lip pencil and lipstick, pure juiced in all the right spots and felt fantastic! Skin looks great, thank you ... and thank you for the prompt efficient processing of my P.O. ... Much Appreciated,
Cynthia
---
No questions. No problems. Just wanted to tell you that you have the absolute BEST makeup I have ever used, and I have used just about them all. I LOVE it. I use alot of eyeliner and was beginning to look old and harsh at my age (52). Your eye wand is truly magical. Not too heavy and over made up. SO many compliments since I have started using this make-up. Now I am hooking my 2 daughters on your make-up. Really, really love it, as you can tell from this huge order.
Tam Weatherly
---
Ramy, I thought you might enjoy hearing this. I went into Sephora at our mall to buy some nail polish. A woman came up to me and asked if I shopped there often. I told her I got certain things there. She asked me to show her where she could find what I was using on my eyes...... I gave her your website - all Ramy. That is the second time this has happened. I haven't used anything but Ramy since you did my makeup for Salute to Survivors at Ann Taylor several years ago. And all I use is the Perfect Eye Wand, mascara and some highlighter. Thanks for simplifying my life and making my eyes look great.
---
Hi Ramy,
It has been years since I met you at Paul King's Salon and I still love your products. I am delighted that your business took off – it requires a unique combination of very hard work, great product and luck to make a success of a new enterprise. And, of course, courage to give it a try in the first place.
I did want to tell you how fantastic your lipstick is. I have been wearing "Chutzpah" since you introduced me to it at the Salon. Not only is the colour fantastic on me (I have tried others but never like them) but your lipstick is the best lip moisturizer I have ever found and I have tried everything! I was seriously burned as a teenager and burned my bottom lip and part of my top lip. Since then, I have had unique problems – where the skin is extremely dry, peels and flakes and feels uncomfortable.
I constantly am putting moisturizer on my lips. I have tried every brand of "lip balm" and the most "intensive" of the intense moisturizing lip treatments. None work as well as your lipstick! I have no idea what the magic ingredient is, but my lips feel wonderful and don't peel nearly as much when I use your lipstick. Now, I have added to my options, your lovely scented lip oil (I use the rose), which I use when my lips are really dry and sore.
I keep a good supply of both products at my home, in my purse, and in my office. Thanks for making such wonderful products that make me feel good about myself and help address a long standing issue for me.
Feel free to share my comments – even though others might not have my problem, they will likely really enjoy how rich and moist your lipstick is. In Toronto – have you thought about selling through Holts? They have some "boutique" brands? I have gone in there before and asked about your makeup.
Jenna Hofbauer
Council Affairs Coordinator
College of Nurses of Ontario
---
Eye LIFT Brows!
You want to talk about instant eye lift? Do a side by side test - To see if this would really give my eyes a lifted look, I applied the gel through my eyebrows and a little beyond..tapped gently around the surrounding eye area then looked back in the mirror. I kid you not, that side looked almost a good inch higher than the other side. It looked like I was arching one brow up as if in question of something. So cool. This is another great little innovation from Ramy. It really does lift my brow area but doesn't give me that deer shot in the headlights eye look. My eyes still look very natural. I just look more awake and refreshed with the added bonus that my eyebrows maintain a nice shape all day. This is not a sticky gel at all. It's very gentle and sinks in in seconds. The four main ingredients work together to de-age my eyes and face and at 40-something I'm all over that! I think Ramy "gets it" when it comes to knowing what we're looking for in a cosmetics line - we want effective, good-for-your-skin, easy to work with, no fuss line. I think if you check out the Ramy website, you'll see he's all that and more. I'll warn you though, you'll probably see several products that you'll want to own. At least that's what happened to me. There's just a great array to choose from. I give a hearty thumbs up to Eye Lift Brows and to the entire Ramy line.
FACE GLOSS. Perfect & Portable Flawless Color for your Eyes, Cheeks and Lips!
One product for eyes, cheeks and lips that actually looks different on each feature! All contained in the cutest little sleek mirrored compact. Contains anti-oxidants vitamins A & D as well as wheat germ oil and Aloe Vera. Leaves a clean finish on cheeks, yet non creasing on eyes and moisturizing on lips! It's like finger paint for your face, try them all!
Talk about a one-stop-shop product! This little gem by Ramy does it all - Each compact is a spot-on perfect color for eyes, cheeks, and lips. My review is for "I'm Over You Glow", a lovely soft peacchy-champagne neutral that will look great with any skintone and eyecolor. It is the perfect, natural enhancement for my lips - they are moist with a slight peachy-sheen that is perfect for daytime. I like to use on my cheeks after I've applied my regular blush to give my cheeks a dewy, peachy glow, and on my eyes I'll use close to my eyebrow area for a subtle champagne highlight . It's all good. Making them even more convenient is the little mirror in each compact. I'm thinking that you'll want to own several colors and that you'll want to have them with you everywhere you go - No need to carry around a bunch of makeup in your pocketbook anymore - you can have it all in one little compact! These are such a great idea. Brilliant idea, Ramy. There is a reason you are so loved by celebrities and why you are mentioned in countless beauty mags and blogs - your products are current, convenient, effective, and affordable. There is no reason why you wouldn't want to give this line a try - especially these Face Glosses. Love 'em!!
METSV
---
Hi Ramy,
Everybody was raving about your lip colors on my lips on stage! My piano player has never said anything about my makeup but asked, "what was that fabulous lipstick you had on? It looked great!" I love it!
The next time I'm at Jeffery I'll check out more of your stuff.
Jimmy James
---
"Been wearing my Ramy makeup…I can't believe the comments I get…mostly that my skin looks so good. I swear I have less wrinkles….but perhaps that is my imagination…"

Lorri Bell
Director, Outpatient Clinical Oncology
Saint Luke's Cancer Institute
---
Hi there,
I took the opportunity to sneak off for a little pilgrimage to Town & Country's yesterday to pick up your suggestions. In between bouncing around the house singing the "I Feel Pretty" song from West Side Story at the top of my lungs (my roommate is thrilled...believe me!), I figured I'd write you a little thank you note.
Thank you! Thank you! Thank you for the recommendations and the new toys!
Best,
Nicole
---
I recently tried your products, and I loved them, they are the best I've tried so far! Thanks so much and keep up the great work!
Kaitlin Gallinger
---
Oh, I talked to Colleen last night and we were comparing notes on how many compliments we've been getting since we have been wearing all Ramy, all the time -- people have been telling both of us that we look younger and shockingly well-rested!
Thanks,
Carol Butler
---
Miracle Brow!
I absolutely love the Miracle brow - it really works wonders and keeps my stray hairs in place so I don't have to play with them and check them out all day. I still think Laugh Line is your best lip liner.
Thanks again and with much love,
Judy
---
Skincare
Thank you for getting back to me. I used your products today and notice the difference with my skin. My skin looks cleaner and brighter.
Sandy Prailleau
---
Hi,
I recently tried the elixer primer and I love it. My skin looks so smooth and youthful. It has reduced the puffiness around my eyes that I occasionally and my skin feels so great. People have really noticed the change. Someone thought I had some plastic surgery. I would love to try your liquid makeup, but I don't know what color would be best. Do you send out sample to try? If no, I have medium brown hair, green eyes and skin that is not too light or dark. I think I have a little yellow cast to my skin. I am 59 yrs. old, but I don't have many wrinkles.
Thanks for the elixir. It is the best!!
Lenore Nier
---
Eyebrows
Hi Ramy,

I'm a regular at RamySpa for your brow shapings. I just wanted to drop a note saying I've been getting a lot of compliments lately on how nice my brow arches look. It's been a month since I've last seen you for a brow appointment, and my brows still look great! I credit your technique and my favorite Ramy Brow Wand. Thanks again!

Best,
Shirley
---
Thanks so much for taking the time to read my email. You have done my eyebrows a couple of times in the past and I love them! I always get complimented on them. I also love your makeup. The Perfect! Eyeliner is the only one I use.
Thanks again,
Jacqueline Wollner